In Madrid, Pescador is a must-visit restaurant for anyone who loves good seafood. Seafood is a quintessential part of Spanish food, and the dishes at Pescador are always fresh, simple and scrumptious. For an authentic wine, jamon (ham) and cheese experience, visit Stop Madrid which is a cute wine bar that is loved by locals in the capital. Chocolateria de San Gines is the best place for churros with hot chocolate sauce, which is the ultimate Spanish dessert or accompaniment with a good cup of coffee. Along with authentic Spanish food, there has been a big wave of new-age restaurants that serve up fusion cuisine, taking the best of Spanish cuisine and reinterpreting it with new flavours, techniques and pairings. Juana La Loca in Madrid serves up innovative tapas dishes – the tortilla is a must-eat here!

Whichever city you are visiting, it is always a good idea to ask a local for their restaurant and Spanish food recommendations. Locals love to share their insider information and tend to direct you towards places that are reasonably priced and serve up some mouth-watering authentic dishes, so do not be afraid to ask!

'/>
Try the Local Food in Spain in Spain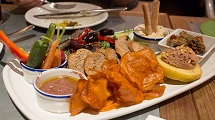 There are plenty of mid-priced Spanish restaurants when it comes to places to eat in Spain. We recommend straying away from tourist hotspots, where prices at cafes and restaurants are higher than in other parts of the city. Agut, located in the Gothic Quarter of Barcelona, is a must-do for authentic Catalonian cuisine, as is Ca L'estevet. For a more modern take on Spanish food and tapas, we recommend visiting Bar Lobo in Barcelona, which reflects the character of Barcelona city as we see it today.
In Madrid, Pescador is a must-visit restaurant for anyone who loves good seafood. Seafood is a quintessential part of Spanish food, and the dishes at Pescador are always fresh, simple and scrumptious. For an authentic wine, jamon (ham) and cheese experience, visit Stop Madrid which is a cute wine bar that is loved by locals in the capital. Chocolateria de San Gines is the best place for churros with hot chocolate sauce, which is the ultimate Spanish dessert or accompaniment with a good cup of coffee. Along with authentic Spanish food, there has been a big wave of new-age restaurants that serve up fusion cuisine, taking the best of Spanish cuisine and reinterpreting it with new flavours, techniques and pairings. Juana La Loca in Madrid serves up innovative tapas dishes – the tortilla is a must-eat here!
Whichever city you are visiting, it is always a good idea to ask a local for their restaurant and Spanish food recommendations. Locals love to share their insider information and tend to direct you towards places that are reasonably priced and serve up some mouth-watering authentic dishes, so do not be afraid to ask!
Have Queries?
Fill in the form below & get the best deals.